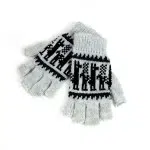 Alpaca Blend Fingerless Gloves
Alpaca Blend Fingerless Gloves
Incredibly soft, yet durable. 95% Acrylic, 5% Alpaca. Available in an endless variety of color combinations! Made in Perú.
Only logged-in users can see prices or use points
SKU: 53930
MSRP: $12.95
Additional information
| | |
| --- | --- |
| Material | Alpaca Wool, Acrylic |
| Color | Earth Tones, Jewel Tones, Multi, Pastel |
| Size | |
| Style | Assorted, Incan, Striped |
Artisan
Isabel

Isabel is originally from Juliaca, a small town close to Puno in the south of Perú. She have been working with Minga since 2010, making various alpaca blend accessories.
Isabel learned to knit from her father, who started out knitting everything by hand. She currently shares work with 15 artisans in her family's workship in Puno and sells their crafts at a small market in Lima.
Isabel's husband Cayetano and her four children: Henry, 30; Humberto, 28; Nieves, 22; and Natalie, 20; all work together. They all travel back and forth to Lima, a 24 hour bus ride, to deliver products to the marketplace. Isabel is content to have international clients like Minga and talks about her dreams for the future: "I would like to pass the business on to my children and someday travel to the countries where my products are sold."