Only logged-in users can see prices or use points
Add to cart
Yarn Buddy Ornament
Only logged-in users can see prices or use points
These adorable, hand-knit animal ornaments will brighten up any space or make any bag or backpack stand out. New designs added frequently. Elastic loop. Sizes range from 2"-6.5" x 3"-6". Made in Ecuador.
1946 in stock
Additional information
| | |
| --- | --- |
| Dimensions | 3-6 × 2-6.5 in |
| Material | Wool, Cotton |
| Color | |
| Size | |
| Style | |
Artisan
Luis & Maria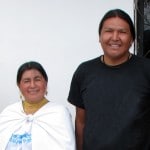 Working with Minga since 2014
Products: Dog Sweaters, Yarn Animal Ornaments
Luis and Maria have been making dog sweaters since 1997. They have one daughter, Alicia, who has a husband, Oscar, and also a small child of her own. They create all of their own original designs. They both speak Quichua and limited Spanish, so they needed a go-between to market their work.
Luis and his family have had a series of unfortunate circumstances happen during the course of their years in business. Their first contact was with a North American company that sells dog accessories online. However, after many years, this man's brother died and he was unable to work with them any more. Later, they were approached by a couple from another North American company who were willing to be go-betweens. However, this couple treated them very badly. Their situation was worsened by the fact that they never had a written contract with this company. Furthermore, they were trying to patent the designs that Luis and Maria had worked on for many years. At first they had to wait up to a month for payment on a shipment. For their last order from this company (delivered in June, 2014), they had not been paid at all. They went eight months without income from their business!
Their whole large, extended family is involved in this business. Their daughter, Alicia, is helping the family business with email and internet communications. The family lives very simply with little furniture. The walls are made of rough cinder block and the floor of bare cement. Their workshop is a small room with several hand knitting machines. They had been unsuccessfully trying to market the sweaters themselves before their partnership with Minga. Now they are making a variety of products for Minga and work has filled their home again.
Rev. 2015
Search Products by Luis & Maria »