Silver Plated Chain
Pairs perfectly with any of our pendants. Available in two lengths: 16" and 24". Lobster closure. Made in Perú.
Only logged-in users can see prices or use points
SKU: 21035
Additional information
| | |
| --- | --- |
| Dimensions | 16-24 in |
| Material | Alpaca Silver, Silver |
| Color | |
| Size | |
| Style | 16", 20, 22, 24", Assorted |
Artisan
Herminio & Patricia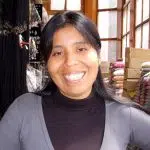 Patricia and her family business in artisan goods are known for their high quality products and for striving to meet deadlines.
The business was started by Patricia's father, Herminio, who is from Pisa, a small town near Cuzco. In 1978 he started in ceramics, selling his products to tourists in Lima. A few years later he bought a place in a market to sell his products, and expanded his product line by making ceramic Christmas adornments. In 1989, he he had increased his number of clients and expanded his products to jewelry and stones from five different workshops around Perú.
In 1992, he began exporting his products internationally and gained many clients through recommendations and reputation of being a responsible family business. Today, he has passed the business on to his daughter Patricia and his wife, who now have five locations in Lima.
Hermenio mentions that today the competition is stronger than ever and he hopes that his reputation of high-quality products and dependable business will set him apart. He says, "I feel very tranquil, I have taken advantage of the opportunities that I had" and now wants to see how his children and family carry on the business and continue to expand it.
Related products
Only logged-in users can see prices or use points