Madera Earrings
Five designs laser-cut from wood. Order by style or ask for variety. Variety of styles. Made in Ecuador.
Only logged-in users can see prices or use points
SKU: 26480
Additional information
| | |
| --- | --- |
| Dimensions | 2 in |
| Material | Wood |
| Color | |
| Size | |
| Style | Alcove, Assorted, Clef, Dimension, Labyrinth, Ripple |
Artisan
Graciela & Francisco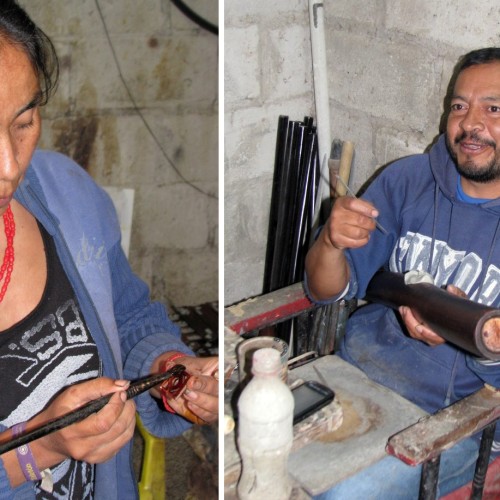 Francisco is one of seven children living in a compound divided up for them by their parents. Everyone in the family is an artisan. Francisco, like 3,000 other people in the small town of San Antonio de Ibarra, is an artisan—a woodcarver and sculptor. He has been working 26 years in wood. For 15 of those years, he has had his own workshop, working mostly in wood and clay. He has always worked with his hands, and he enjoys carving.
He and his wife, Graciela, have three children aged 19, 14, and 5. They have been working with Minga for six or seven years. They first started with pens covered with special clay, which they carved and decorated. Now Minga currently only carries their wooden items.
Currently they make wooden earrings (laser-cut and otherwise), musical instruments, including rain sticks and pan flutes (zampoñas) from bamboo, clay-covered jars, and the most exquisite laser-cut boxes, incense burners, key chains and more. He can make ten rain sticks in a day. The musical instruments are their best-selling items.
A year ago, they got a bank loan to buy a laser-cutting machine. They have three more years to pay off the loan. They showed us some beautiful work, a new line of laser-cut and decorated wood that they are introducing. They hope that these attractive items will result in more sales.
Francisco explained that the wood is nearly all pine. The famous blackwood and other "noble" woods are protected by the government and will not permit to be cut because they are threatened species and getting very scarce.
Even making earrings takes a lot of work. There are five different designs for the Madera Earring. After they are cut (some of them with a hand saw, some with the laser machine), they are sanded, oiled, sanded, stained and dried. A natural shine is applied and then they are brushed with a very soft brush.
We asked which was their favorite part of the work. Francisco replied, "carving the faces." He said he mostly carves serious expressions, but when a client asks for smiling ones, he is happy to comply. Graciela indicated that her favorite part was finishing the designs which includes painting, sanding, staining and so forth.
Francisco would like to say to customers, "Everything is made by hand. Sometimes we work 12 hours per day." He added, the prices might not reflect that reality, but they love their work. Most of their helpers are family members rather than employees. When asked what his hopes and dreams for the future are, he readily answers, "To keep working." He would like to have his sons working together to build houses here in the family compound for all of them and their hoped-for families.
Their new laser-cut line has a very promising future. Their nephew Ismael is studying design in university. They are making small boxes that are really striking, and very attractive. Some of the designs are better painted, others left natural. Ismael can make many different custom designs; one that he made had Minga's logo on it. It takes about ten minutes for the machine to cut the design out of a 1/4-inch thick piece of pine, and about half an hour more for Graciela to finish it and turn it into a keychain. They come out beautifully.
The entire family seems to be creative, very hard working, and generous. It is something they all enjoy – to live and work in the same tight-knit neighborhood. In 2011, Francisco and Graciela introduced Minga to Aída, his sister, who makes glass items. The flow of nephews, cousins, aunts and uncles back and forth in all the houses makes for a wonderful atmosphere – people cheerfully leaving their kids to be watched for a few hours, giving a family member a haircut, cooking together, everyone helping everyone else. It is inspiring. We like the idea of supporting this community sharing approach to life and helping to make it work economically.
Rev. March 18, 2015