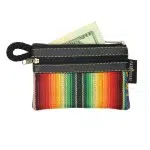 Leather/Fabric Coin Pouch
Only logged-in users can see prices or use points
Add to cart
Leather/Fabric Coin Pouch
Leather and acrylic. 4.5″ x 3″. Made in Ecuador. Two zippered compartments.
Only logged-in users can see prices or use points
SKU: 56202
MSRP: $8.95
Additional information
| | |
| --- | --- |
| Dimensions | 4.5 × 3 in |
| Color | |
| Size | |
| Style | |
Artisan
Cristhian
Cristhian lives on the very edge of the town of Cotacachi. He loves it there; it is tranquil and quiet, with little going on in the neighborhood. He was born in 1986 in Cotacachi. Cristhian learned a lot about the leather trade by himself as a child, even though he had no teacher. In 2008, he took a course in leather-working and learned all he needed to start his own workshop in 2010. He met Chris for the first time in the Cotacachi market in 2012.
Cristhian started out making wallets. He likes making them – and everything else. He is very passionate about his work and would like for his customers to know that products made in Ecuador are good because they are all made by hand and of high quality. For designs, the function dictates how it will look. Of course, clients can modify them as they like. The natural looking leather comes from Columbia and the processed leather comes from local tanneries, particularly Ambato.
He is constantly designing new things. Currently, he produces about 30 different products. Bags, wallets and belts are the three most popular items.
Cristhian has three young men who help him in the workshop. They don't have the equipment to do the work in their own homes. There are others who help from their homes and they come to the workshop to pick up their materials.
Their dream for the future is to sell more products in more countries so that he can become better known and more established in the market. He would also like the workers to become better known and more established in the market.
He uses cruelty-free leather, which comes from the meat industry, but it is not factory farmed. The cattle eat grass and live in natural conditions. Their hides have to be healthy to be useful in leather-making, and they don't see any evidence of maltreatment, such as scars or poor condition.
Minga 2015
Related products
Only logged-in users can see prices or use points