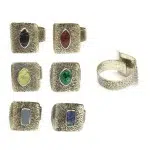 Only logged-in users can see prices or use points
Add to cart
Hammered Stone Ring
Alpaca silver and semi-precious stones with hammered metal effect. Adjustable. Made in Perú.
Only logged-in users can see prices or use points
SKU: 28102
Artisan
Luz & Sandra

Luz is from Lima and met her husband Marco Antonio when she was studying in Huancayo, a valley in the mountains of Perú. Her husband worked originally in metals, making home accessories, and with this experience they were able to move to Lima and start working in making jewelry with alpaca metal, bronze, and Peruvian stones. In the 1970s they made jewelry for backpacker travelers to Peru and slowly learned more about the business. Luz remembers that in the beginning it was very hard because she had to knock on doors to sell her products and she wasn't always received in such a welcoming way. But slowly they made contacts and were able to sell more steadily to people with clients in other countries, including Minga Fair Trade Imports.
They currently have a workshop with 10 workers, and work in conjunction with six additional artisan families who work from their homes. Many members of Luz's family are in the business and they are known for their organization and strong word to finish orders on time.
Luz and her family also have a store in Lima where they sell their jewelry. In particular, Luz's daughter Sandra attends to clients at the store and works in the administrative aspect of the family business. Further, Sandra enjoys traveling to other countries in Latin America to sell her products to clients who aren't able to travel and buy directly in Perú.
Luz lives with her four children in Lima: Christian is 32 years old, Sandra is 28, Fiorella is 22, and Leonardo is 9 years old. Luz comments that "I love my job, it is my way to deal with stress and get away from everything." In particular, Luz is happy that she is able to provide so many jobs to artisans around Lima and likes to share what she can with them: "The little that I can earn, I share with the artisans." She further says, "I hope that my children stay with this" because she has put her life into this business so that her children can learn and carry on with the business that she and her husband have built up from nothing.
Related products
Only logged-in users can see prices or use points