Only logged-in users can see prices or use points
Add to cart
Rustic Reversible Cap
Only logged-in users can see prices or use points
Made from 100% hand-spun, undyed, organic alpaca wool. Each hat can be turned inside out for a fresh new look and color. Available in a mixed combination of white, tan, brown, and dark brown. Because these are undyed fibers, tones will vary. Made in Perú.
32 in stock
Additional information
| | |
| --- | --- |
| Material | Alpaca Wool |
| Color | |
| Size | |
| Style | |
Artisan
Juan & Reina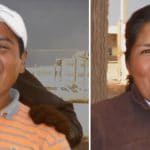 Favorite Food:
Juan: Baked Guinea Pig
Reina: Chairo Soup
Favorite Music:
Juan: Andean and Huayno
Reina: All kinds – Romantic, Salsa, Cumbia, and Huayno
Favorite Pastime:
Juan: Playing soccer and spending time with his children
Reina: Going out for walks with her children, knitting, and creating new things
Juan and Reina are partners who make various knit products with alpaca wool, acrylic fibers, or a mix of both. Juan was born in Cuzco and now lives in Juliaca with Reina, where she was born. They have two children together, one boy and one girl. Reina comes from a family of artisans and her mother was the one who taught her to knit. When Juan met Reina he dedicated himself to the artisan craft and together they have grown their business commercially. They have several people that work knit for them and at the end of the every year Reina gives them a holiday basket to thank them for their continued hard work.
Related products
Only logged-in users can see prices or use points