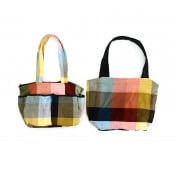 Only logged-in users can see prices or use points
Add to cart
Plaid Bag Duo
Only logged-in users can see prices or use points
Fabric. Lined. Zippered.
Plaid Diaper Bag
Bag depth: 10.5″
Bag width: 16″
Strap length: 12.5″
Two outside pockets with velcro closures, two side pockets. One inside zippered pockets.
Plaid Tote
Bag depth: 13″
Bad width: 19″
Strap length: 11.5″
One zippered pocket inside.
Spend $100 at the Marketplace to receive free shipping on your entire order! All sales final.
1 in stock