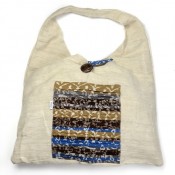 Khadi/ND Shoulder Tote with Button
Only logged-in users can see prices or use points
Add to cart
Khadi/ND Shoulder Tote with Button
A visually interesting and textured tote bag made from Khadi and batiki patterns created with natural dyes. Bag includes a beautifully pleated front zipper pocket and a small inside zipper pocket. Button and string twist closure.Dimensions – H: 14" x W: 18". Strap approx. length: 25".Khadi – Gandhi ensured this most natural handspun, handwoven cotton will forever be a symbol of simplicity and purity.
Only logged-in users can see prices or use points
SKU: 56557
Additional information
| | |
| --- | --- |
| Dimensions | 18 × 14 in |
| Color | |
| Size | |
| Style | |
Artisan
Motif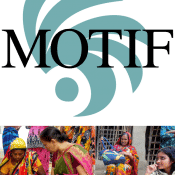 British designer Jackie Corlett, worked with Jharna from 1989 in a local Bangladeshi hand crafts organization. Together over 5 years as designer and pattern cutter, they worked with top European Alternative Trade Organizations designing and delivering new ranges of hand woven table linens, embroidered bags, tailored bath robes, slippers and many other accessories.
After returning to Bangladesh, in February 1998 Jackie, Jharna and 2 other local investors were excited to set up Motif Ltd. as a Joint Venture Private Limited Company. Thus, Motif was born.
Sign up for Motif's newsletter here to stay up-to-date on artisan happenings, product developments and more!