Only logged-in users can see prices or use points
Add to cart
Ecuadorian Doll
Adorable, traditionally dressed male and female dolls holding children, instruments and various items representing indigenous culture in the Ecuadorian highlands.
Only logged-in users can see prices or use points
SKU: 43801
Additional information
| | |
| --- | --- |
| Dimensions | 9 in |
| Material | Wood, Acrylic |
| Color | |
| Size | |
| Style | |
Artisan
Delia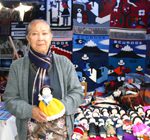 At age 78, Delia is known as an accomplished Central American artisan who is unique in many ways.
Delia is a self-taught artisan from Otavalo whose expertise has long been in demand by those who appreciate hand-crafted items. Twenty five years ago, she individually laid the foundation for her humble entrepreneurial beginnings when she started making traditional dolls for New Year celebrations. Shortly thereafter, her market blossomed to international proportion. Her achievements became two-fold. The high demand allowed her to employ many women who presently work alongside her. Additionally, she continues to be well-known for her exquisitely crafted hand made dolls adorned in traditional Ecuadorian dress.
After several years of working in the marketplace, she isn't able to produce as many dolls as she used to. However, she is still working closely with Minga Imports, taking smaller orders for export.
Delia now lives in Latacunga. She speaks proudly of what she has accomplished saying "it was a very beautiful business".