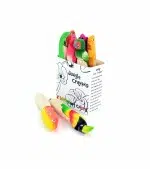 Boxed Balsa Crayon Bundle (8)
Only logged-in users can see prices or use points
Add to cart
Boxed Balsa Crayon Bundle (8)
Our easy to display packaging attracts and informs and has put this product in the top 5 bestsellers since 2017! Eight crayons with a different tropical animal hand-carved and painted out of balsa wood. Sold in increments of 12 boxes. For the best price, buy in case sizes of 162. Made in Ecuador.
Only logged-in users can see prices or use points
SKU: 47803
Additional information
| | |
| --- | --- |
| Dimensions | 3.375 × 1.67 × 6 in |
| Color | |
| Size | |
| Style | |
Artisan
Cesar & Rocio
Country: Ecuador
Cesar is from the community of Totoras, near the city of Ambato, and his wife Rocio is from the city of Riobamba. While they have been working with Minga since 2007, they have been involved in work as artisans for more than 20 years, when Cesar first moved to the small city of Banos to learn in a workshop and then traveled to Bogota to sell his products. Cesar has also completed a 6-month qualification course to become a legally-recognized artisan in Ecuador. This license comes with various privileges, such as decreased taxes paid on incoming materials, or more ability to promote one's products nationally and internationally.
Cesar and Rocio work with wood to make animal-shaped crayons and pens, as well as larger wood-carved and painted animal statues. The balsa wood they receive in its original form is damp so that they can easily cut it into the desired shape. Once that is done, they dry the wood for up to one week in strong sunlight, sand it, use a machine to burn thin dark lines into the wood, and finally paint the wood with Colombian paint. For the products that they sell to Minga such as crayons and pens, they drill a hole into the wood and insert the wax that comes from Perú or pen ink.
They currently live with their two teenage children (Javier and Joanna) who are attending university and have a workshop in their house with 2 workers. Cesar says "it is nice that my kids are studying" and that he enjoys his job as an artisan. He enjoys selling his products internationally because he says that foreigners value more the products and intricacy of the work. The Ecuadorian market, on the other hand he claims, has very low prices and therefore the international market allows him to better cover his costs of labor and materials.
Related products
Only logged-in users can see prices or use points